Christmas is almost here! Have you started your shopping yet? Well, here are some alternative gift ideas for all the family!
A lot of things may have changed this year, but one thing's for sure: Christmas is still the most wonderful time of the year! Yes, my cool cats, Christmas is just around the corner and we all know what's coming…GIFTS! 
Whilst the calendar days to Christmas are getting crossed off…I still don't know what to give my human best friend, Tim Hague! We've had lots of fun over the past few months making our learning videos for kids, but I'm not sure what gift to get him…I am a Tiger for kids after all, and my pocket money from Tim isn't enough! Actually, Tim isn't into material things that much, so I need to give him something I know he will love and without the added clutter at home!
If you're like me and are also scouting for non-material gifts to give this holiday season, then you're in luck because we have ten alternative gift ideas to give to your family and friends this Christmas. 
Subscription Service
There are many great benefits in giving someone a year's worth of a subscription service! First of all, there are hundreds of different online subscription services to choose from. There's one for almost everybody! For the Mum who loves to read great articles while drinking her morning coffee, there's Medium. For the science and history geek Dad, there's CuriosityStream. Something for the Tiger Cubs could be… Kidoodle. So many options, so little time! One thing to remember about cool subscription services is that they are typically cheaper and more useful than a boring old mug or another pair of Christmas socks.
An Online Course
Give the gift of wisdom with an online class subscription for your loved ones! Much like our learning videos for kids, online courses nowadays are not just confined to academic topics (though those are great, too). Anyone can take classes on things they would love to explore but have never got around to doing so. From photography, to baking for beginners, there's an online course for just about everything and everyone. MasterClass, Udemy, Anglia Education, and Outschool (something for Tigers and for kids!) are just some of the best sources of online courses.
Donate On Their Behalf
Perhaps the best gift to give is the gift that keeps on giving! Donating to a charity on behalf of your loved ones emphasises the true meaning of Christmas – to give to those in need. There are several charities across the UK and the world to do this with, such as the World Literacy Foundation, the National Literacy Trust and global organisations like UNICEF and the World Vision.
Homemade Goods
Homemade goods are not only more affordable, they also offer the personal touch! If you're a talented baker or a home chef (ahem, like me!), then you can whip up your specialty and give it as your Christmas treat to everyone. The best part about this is you can get your Tiger Cubs involved, too. You can also have them make personalised gift cards, tags, and wrapping papers. The gift they make (and give) becomes much more meaningful and memorable because they gave a part of themselves too.
Digital Portrait
Gifting someone a digital portrait is a fun way to show the other person how much they mean to you! Not only that, but getting commissioned artworks like digital portraits also helps talented, independent artists. To make the gift more special, you may print out the picture for them. Just don't forget to give them the soft copy so they can use it as their social media display photo, too!
Photo Album
Nothing is more sentimental and memorable than a photo album. You may choose your loved ones' best photos uploaded on their social media account, or you can also use pictures of a special moment (like when I first met my BFF Tim Hague in the jungle), event, or the best memories that you shared with them. A photo album is also a versatile gift. You may have the photos individually printed and placed in a scrapbook, or it could also be a printed photo-book. The choice is yours, but the idea is awesome!
Book (with a twist!)
There's no secret that we love books as much as watching learning videos for kids! But books might not be considered a unique gift. So why not make things more exciting by giving your loved ones a blind date…with a book! Just wrap the book and write a short teaser about it and why you chose that particular title as your friend or family member's 'perfect match'! A Blind Date with a Book will be a sure-fire hit with both the bookworms and mystery-loving friends!
Bonus: You can also opt to buy a second-hand book as a more eco-friendly option, or try supporting small independent book shops that are badly affected by the pandemic.
A Plant
House plants and succulents are the perfect gifts to give to the green-thumbed loved ones (both pro and novice) in your life! Choose from a wide array of plants that are easy to take care of with minimal effort. Plants and succulents do not just add to the ~aesthetics~ of the space, but they could also help relieve stress and make the air cleaner, too! Something tigers for kids like me would appreciate!
A Reworked Item
We all know that a lot of clutter *does not spark joy*. So instead of giving something that might end up in a sad corner in your storage, why not rework or mend something for your loved ones? There must be something they own that can still be repaired, like a broken dresser or an old dress that needs a make-over? With a reworked item, you save the Earth and your pocket, too! Not only that, much like your handmade goods, you also give the gift your personal touch.
Handwritten Letter
We live in a world of instant messaging, e-mails and Zoom calls. But I believe that there's still something special and sentimental about handwritten letters. Writing a letter takes time and effort (like how we make Tiger and Tim learning videos for kids). It also reminds people of the good ol' days. And I bet my paws that your family and friends have not received a handwritten letter for a long time! So that is something they would definitely cherish.
So, that's it! I hope you were able to gather some ideas on what to give to the special people dear to you. But remember that the best gift anyone can give is kindness and love – two things we all believe in at Tiger and Tim headquarters!
Talk to you soon, cool cats!
Lots of love from Tiger xoxoxo (and Tim and Mummy Susy)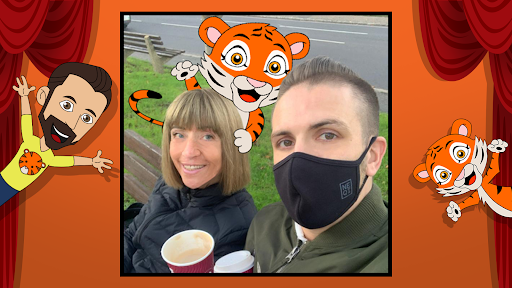 Click here to read more of Tiger's blogs.