Tim Hague is the man behind Tiger and Tim. Get to know Tim through these six interesting facts about my human BFF.
Many Tiger and Tim fans know Tim Hague as my silly human best friend. But there is more to Tim that not a lot of people know about.
Aside from being a tongue twister master and storyteller extraordinaire, Tim Hague is also a journalist, business owner, and an overall good guy! He also feeds me, so I need to make this article very complimentary!!
Let's get to know more about the other half of Tiger and Tim with these six facts you should know about its creator, Tim Hague.
He was a BBC broadcaster for eight years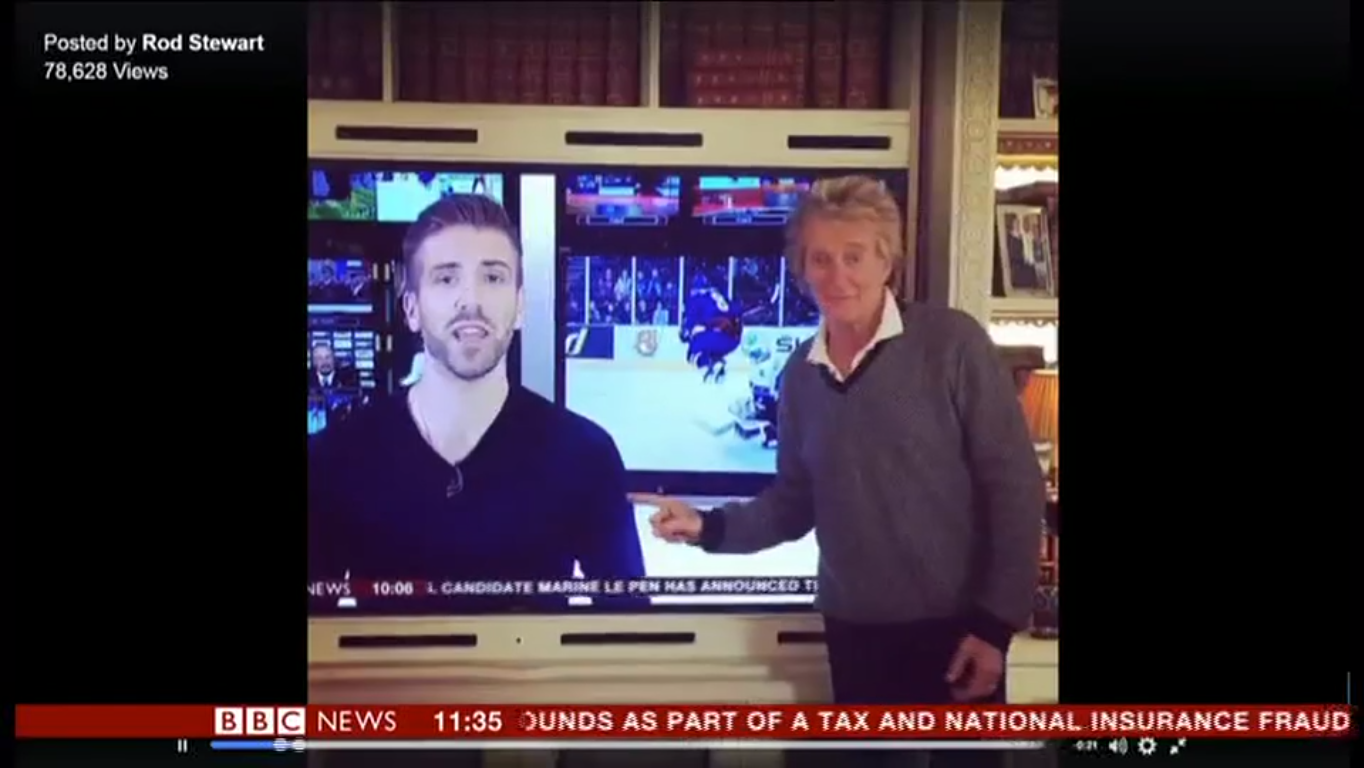 After getting a First Class Honours degree in History and working in New York City, Tim was selected from thousands of applicants to become part of the BBC Journalism Trainee Scheme in 2010. He was employed by the BBC full-time from 2011 and used his training to become a Presenter, Reporter, and Journalist, focusing on national and international news. As a BBC broadcaster, he worked on TV bulletins on BBC One, BBC Two, BBC News and BBC World, as well as on BBC Radio and BBC online. Tim has also worked for NBC in America and the English Premier League as a freelance reporter.
In 2012, Tim produced one of the very first news reports in the UK on depression in sports, particularly in football. 
He was in a viral video – all thanks to Sir Rod Stewart!
My friend Tim Hague, the viral sensation? Yes, you read it right! In 2017, music legend Sir Rod Stewart (I like his funky music when I'm dancing) recorded himself beaming with pride as his son Liam scored his first international goal for Great Britain. And guess who was reporting about the moment on the telly? None other than silly old Tim!
Millions of people have seen and shared the video on Facebook and other social media platforms, and Tim was very happy (and shocked!) to be part of this proud moment for a father and his son.
He has pretty much traveled the world!
Apart from living in New York, Tim Hague has also traveled the world pretty extensively for his business – Anglia Education, an English language online learning service. As a business owner, Tim has been to many parts of China, the Middle East, and Africa.
Being the travel enthusiast that he is, Tim hopes to visit more countries in the future. Of course, once it is safe to do so! I hope he will take me with him, I like exploring too!
His great grandfather was a "Foundling" child
Not many people know that Tim Hague's desire to improve children's lives with our show Tiger and Tim, stems from his great grandfather. Tim's great-grandpa, Alfred, was a "Foundling" child back in the 1880s and lived at the world's first orphanage called the Coram Fields (Foundling) Hospital in London.
Built in 1739 by philanthropist Thomas Coram, the Foundling Hospital housed thousands of abandoned children from all over the UK. It was the first children's charity in the world and saved the life of three-year-old Alfred, and in turn, gave life to four more generations of Hague's, AND ME of course!!
He helped UK business owners during the COVID-19 lockdown
The global pandemic caused by COVID-19 has affected millions of business owners around the world. The UK has of course been very badly affected too l, including businesses like Tim Hague's. In May, Tim applied for a government grant that would help his start-up business survive. But after working on his grant application for  two weeks during the height of lockdown, the government denied him the opportunity to even get his grant application read because of a technical error and a small oversight – £2 to be exact.
But Tim didn't take this lightly. He worked hard to dispute the decision and the process of obtaining grants. He found some key flaws in this particular COVID-19 grant process, and his tenacity and never-say-die attitude saw the government overhaul the application process and reinstate thousands of other business owners who had also been made 'ineligible' to apply, due to no fault of their own. Tim's work saw him raise an extra £7.5 million for all those other 'ineligible' companies during this difficult time. By the way, Tim's business wasn't awarded any of the £7.5 million of grant money when he reapplied! Silly Tim. 
He is an RSA Fellow
What do Charles Dickens, Nelson Mandela, and Tim Hague have in common? All three of them (and many other respectable men and women) are Fellows of the Royal Society of Arts!
Tim is no Dickens or Mandela of course, but he was respectfully nominated to become an RSA Fellow in August 2020, for his work on Tiger and Tim. A month later, he officially became an RSA Fellow, joining the ranks of notable people in the society which  "aims to participate in creating a better future". Being an RSA Fellow is a testament to Tim's work and a great sign of what's to come in the future for our show. But why was I NOT nominated?!
As the human behind Tiger and Tim, Tim Hague has put on another hat – a children's show host! Thanks to Tim's hard work, creativity, and vision, there is no doubt that there are more fantastic and exciting things to expect from Tiger and Tim! Of course, I am the star of the show, but silly old Tim isn't bad either… I suppose. 
Learn more about Tim Hague here. To read more blog posts, click here.
See you next time! Lots of love, from Tiger xoxoxoxoxo 🐯