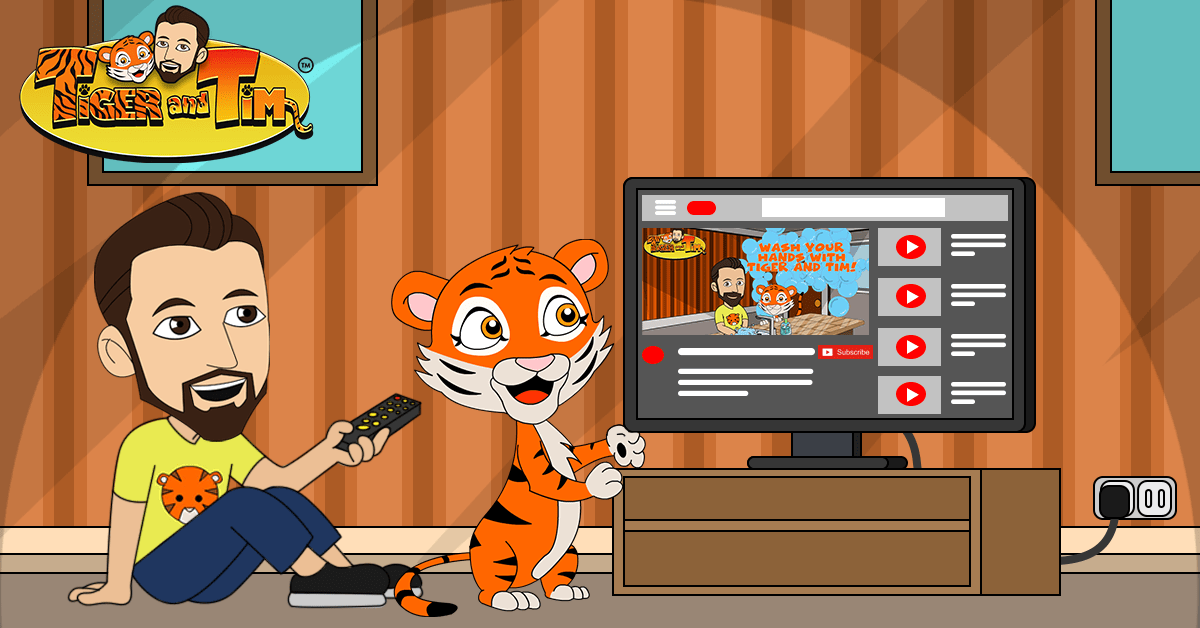 Tiger and Tim will definitely become first on your list of educational videos for kids, but why should people watch our first episode?
The Search Is Over!
Mums and Dads, are you looking for fun, exciting and educational videos for your kids at home?
Well, your search is over. I am here! Yes, it's me, TIGER!!
Former BBC presenter and reporter, Tim Hague, together with me, Tiger, (his best friend and the world's cheekiest celebrity), are ready to take the internet by storm! The "Tiger and Tim" show – which is part animation and part "human" – is now available on YouTube and across social media. I look handsome in it:)
Now, you might ask: "Why watch Tiger and Tim when there are so many happy videos for kids online?" Well, apart from me being in it and being very clever and very cute, here are a number of other reasons why our show should be number one on your kiddo's watchlist, and why it will be on the watchlist of children and adults all around the world very soon:
It's A Fun Adventure

With our children being stuck at home for months and months because of COVID-19, they are always looking for exciting and entertaining shows to watch on the TV, internet and on your phones/tablets (I like using Tim's phone for this)! With Tiger and Tim being available for free on YouTube Kids as well as lots of other original content on across social media (you can see our social accounts on our website), you can ensure that your "Tiger Cub" is watching something adventurous, family-friendly, and extremely educational. Both Tim and I really want to improve their literacy levels and help them fall in love with the English language! You should know that I also speak Tiger as well as English.
And, did we tell you how entertaining we are too? We have adults continuously telling us how much they love our show and that they too want to watch! I mean, why wouldn't they? Who doesn't love Tigers? Who doesn't want their child to consume high-quality, highly funny, and highly-educational content? On top of that, I enjoy swinging from trees and making fun of his best friend Tim! Yes! Each episode of Tiger and Tim is full of relatable jokes, happy times, and child-friendly challenges. There will never be negative messages, only happy or important ones, and we guarantee we will bring a smile to your and your family's face in every single one of our feature-length episodes (around 20-30 minutes).
It's Very Educational
The main difference between Tiger and Tim and other children shows on YouTube and elsewhere, is its purpose. Tiger and Tim aim to improve children's literacy. Kid's literacy, reading, and comprehension are so important and through our videos, your kids will develop all of this, as well as increase their moral values, kindness and sense of humour. AND, they get to watch me showing silly old Tim who is boss!!
Our regular educational videos for kids will teach children about valuable life lessons such as health and wellness, love, friendship, and so much more. Both Tim and I believe that teaching kids about respect, kindness, and other virtues will make a huge positive impact in their lives, your lives, and the future of our world. It's very important you know.
As Tim often says: "a key motivation for both Tiger and Tim is that education is best when it doesn't really feel like education. That is our goal, and everything that we do is designed to develop, nurture and help our community of Tiger Cubs." Tim really wants to change the lives of children around the world for the better, and now, more than ever in our lifetimes, we all need the joy that Tiger and Tim bring.
Mums and Dads Will Love It Too!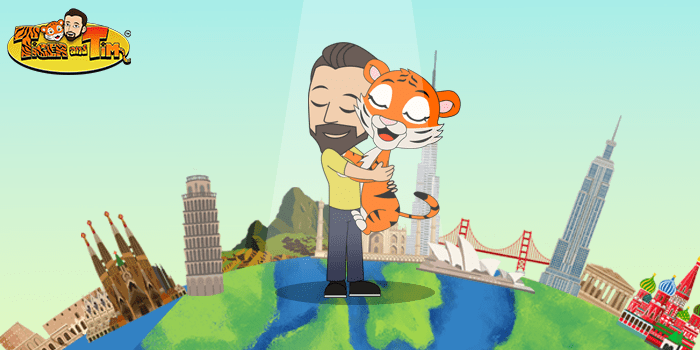 Kids will undoubtedly love me, and maybe Tim too! But our motivation is to bring joy to all people of all nationalities, and that's why we know (because many have already told us) that Mums, Dads, and kids of all ages will binge-watch our show. In using social media to promote our project for good, we are harnessing the very media source that is negatively affecting reading levels around the world. Except, we're using it in a positive way – to promote education, kids' literacy and good values – and we are doing it in a way that the kids will have no idea it is educational! It just appears fun, but everything about the show is about personal and educational development (and about me looking fabulous).
In times as tough as these, wholesome family humour can be the key to a happy mind! As you scroll and watch our new episodes each and every month, you will realise that Tiger and Tim are not your typical kids learning double-act – what we provide is a family bonding moment, a teaching opportunity, and a 20-30-minute adventure that you will watch again and again and again. This is escapism at its finest and we want you adults, to enjoy it just as much as your little ones. Please give it a try! I promise you won't regret it!
Lots of Love, Tiger xoxoxoxoxoxoxoxo
Do you want to learn more about Tiger and Tim? Check out our website and our Facebook, Instagram, TikTok, and YouTube accounts. Make sure you like, follow and subscribe! Sign up to our weekly newsletter too, so that you and your Tiger Cub(s) can enjoy fun and educational games for kids and some secret surprises from Tiger and Tim…
Speak to you soon!