We've explored so many different places with Tiger and Tim. Let's look back at the different trips the duo has taken so far.
Hey, cool cats! How have you all been? Are you still washing your hands? PURR-FECT!
We all know that my adventures with my human best friend, Tim, began during the lockdown. But that did not stop us from exploring so many wonderful places! Kids and adults watched our videos as we explored these fantastic (and often magical) places. Our learning videos for kids gave everyone a chance to visit those places, too.
So let's take a trip down memory lane and see all the places we've all been to with me, Tiger, Tim, and all our friends!
Tim and I donned our space suits in one of our early shows and went to outer space. Remember that, kids? We even read about Marvin, the mouse, who built a rocketship with his friend Dolly the Deer. Together they went to the biggest cheese ever – the moon!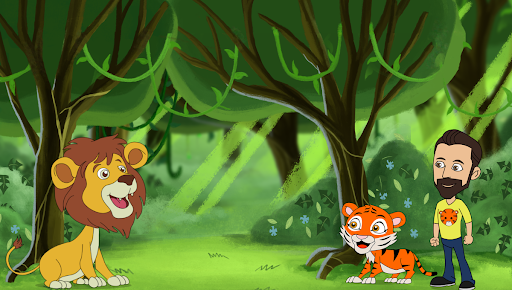 Another exciting place that we visited in our learning videos for kids was the vast African Jungle. I was so happy to meet the different animals living there, but sadly, none were tigers like me. Now I learned that my fellow cool cats do not live in jungles, but rather, most of us live in rainforests, grasslands, and savannas.
Who could forget our trip to Ancient Egypt? We travelled back in time to learn all about Ancient Egypt. We saw giant pyramids and even met mummies – but they were not like Mummy Susy at all! Also, in that video, kids read about Sneezer McGeezer and his hair-raising adventure inside a pyramid. Yikes!
There's no place like home. That's why in our seventh episode, we explored Great Britain! Our Great British learning video for kids helped many of us know the Union Jack better. We even met her majesty, The Queen, herself. Now that's better than a plate of piping hot fish and chips!
Who could forget our memorable trip to the North Pole for our Christmas show? I know kids (and kids-at-heart!) loved that episode. And why wouldn't you, when Santa himself was there, too! I could still remember the cold wind blowing when I pulled Santa's magical sleigh to deliver presents. Don't forget the yummy Christmas cookies that Tim ate!
When Sammy the Scientist told us about how the Amazon Rainforest needed some help, Tim and I immediately packed our bags, and off we went! In that video, kids learned all about the problems facing the Amazon rainforest and how everyone can help save it – including my animal friends, Oscar the Orangutan, Samanth the Sloth, and Tommy the Toucan.
In our latest video for kids, we once again travelled back in time to glorious Ancient Greece. Tim even participated in his very first Olympic race, BAREFOOT! Tim may not have won the medal, but he will always be a winner to me.
I never thought I would travel all the way to Treasure Island, let alone meet a ghost pirate! But if we remember one thing from Pirate Pete, it would be to treasure the true 'treasures' in our lives – our family and friends. Always show your appreciation for the people (and animals!) that you love. Don't forget that, kids! 
Summer was getting a little bit too warm, so Tim and I decided to go on a very COOL trip to Antarctica! There we met Paula the Polar Bear, and her baby, Peter. Don't forget about Sophie the Seal and her super seal friends! Did you enjoy that video, kids? You know I did!
Chocoholics, unite! Our learning video for kids set in the Enchanted Chocolate Forest is for you. Now I'm craving for some delightful treats, like marshmallows, lollipops, and of course, chocolates! I wonder if Tim is up for another return trip to the Chocolate Forest just in time for tea…
That's it, folks! We've been to so many different places, and I am still very much eager to explore and learn new things with everyone. So why don't you go on a Tiger and Tim marathon and watch all our videos with the kids and grown-ups at home? That sounds like a good idea to me!
'Til the next blog! Bye!